SAYFR reduced time to market by 50 percent with resources from The Cloud People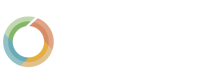 SAYFR develops digital tools to facilitate building a more mature company culture. SAYFR is addressing the growing market demand to digitize the entire process of capturing the variables that describe the characteristics of companies. The Cloud People is helping SAYR utilize Google Cloud Platform, reducing time to market and scaling their solution.
Rather than spending valuable time to find, hire, and onboard much-needed technical resources and knowledge, SAYFR decided to partner up with The Cloud People.
SAYFR is a young and innovative company that develops digital tools to facilitate building a more mature company culture. All of the founders have a background from DNV and the consulting company Propel, which also worked with safety culture as its main focus.
Safety culture based on gamification
The underlying reason behind the establishment of SAYFR is the growing market demand to digitize the entire process of capturing the variables that describe the characteristics of companies with high reliability. These companies are more likely to have a good safety culture, which says a lot about the company's «health» as such.
Historically, manual approaches don't scale sufficiently. They take a longer time to implement and cost both suppliers and customers more resources and bigger investments. SAYFR's approach to creating lasting changes in customers' safety culture is to combine big data with gamification-based simulations.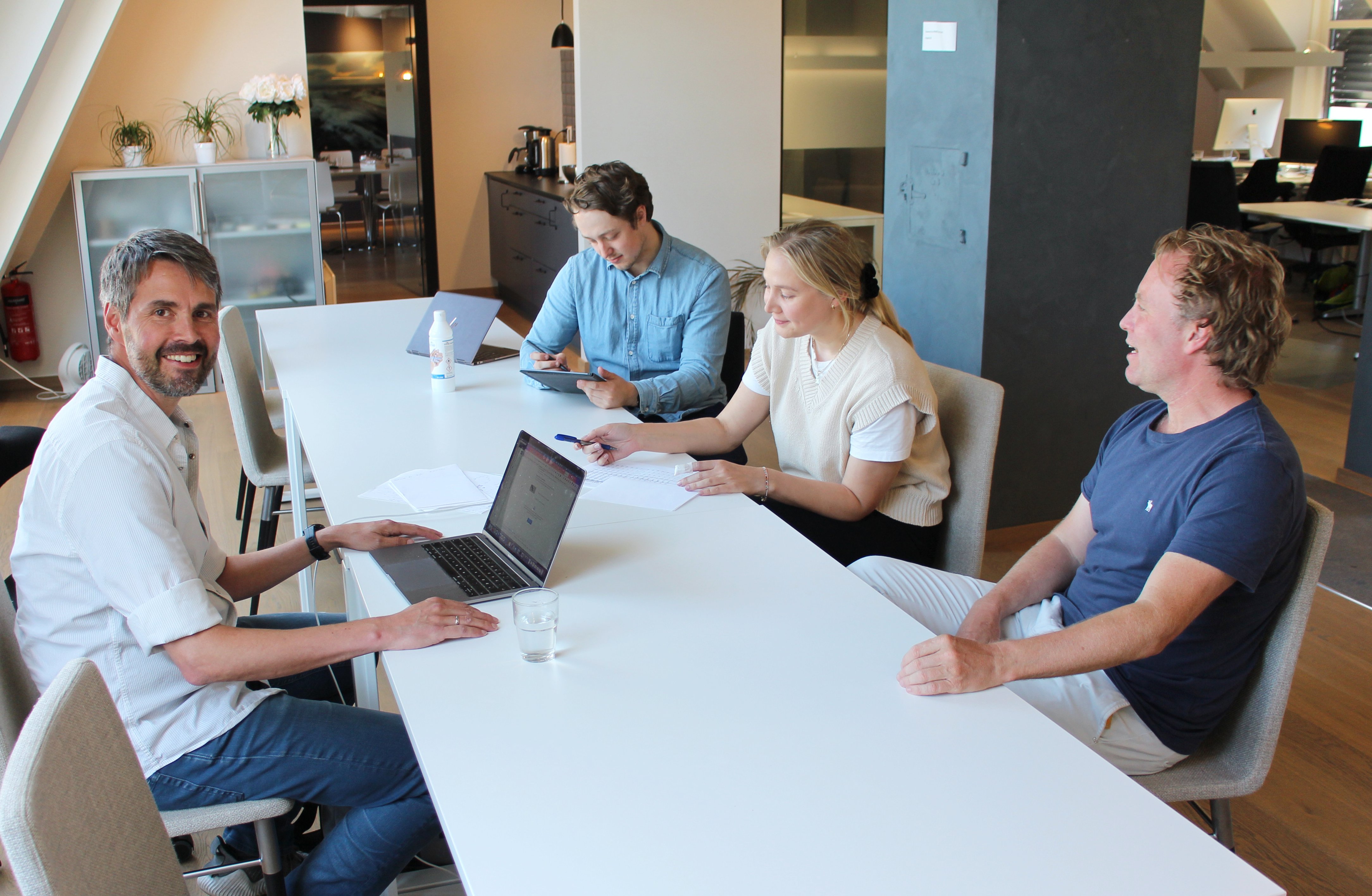 Focus on company culture, not on technical issues: Johan Rostoft (CEO), Simon Krogstad Munkeby, Astrid Gjerdrum, and Didrik Svendsen spending their valuable time on creating digital tools to facilitate building a more mature company culture – not on basic technical stuff.


Changing the safety culture
SAYFR collaborated with Attensi, a Norwegian company specializing in gamified simulation training, to develop their gamification-based simulations. And through these simulations, SAYFR would gather huge amounts of data containing valuable insight into their client's company culture. SAYFR had to ask itself: how to approach the actual data processing to ensure a swift scaling of their solution.
«SAYFR is a relatively young and small company. That was the rationale behind moving the actual data processing to the cloud. We decided to go for Google Cloud Platform, but we were unsure of how to work with Google's cloud solution. We had two choices. We could focus on building our own IT department ourselves but quickly realized that it would take a lot of time and require extensive resources. With limited knowledge and capacity available in the Norwegian market, we decided that working with The Cloud People was the best solution for us,» explains CEO of SAYFR, Johan Rostoft.
Reduced time to market
Without a sufficient partner who could help SAYFR with Google's cloud solution, they would not be able to scale up the solution as quickly as they wanted to. And time is money.
«Technological expertise is increasingly becoming a limited resource. And experts within the Google Cloud Platform are even more difficult to get hold of. Instead of spending a long time finding, hiring, and getting started in a timely manner, SAYFR decided that the best solution was to partner up with us to buy necessary expertise as a service,» says Managing Partner and Advisor, Tord Ripe in The Cloud People.
The solution was to procure expertise as a service. And after a short period of time, SAYFR was assigned with a direct contact manager from The Cloud People, whose responsibility is to always make sure the right skills are allocated to SAYFR's needs.
Johan Rostoft, CEO of SAYFR, adds: «Without the expertise of The Cloud People, we would have spent twice as much time to market with our cloud solution.»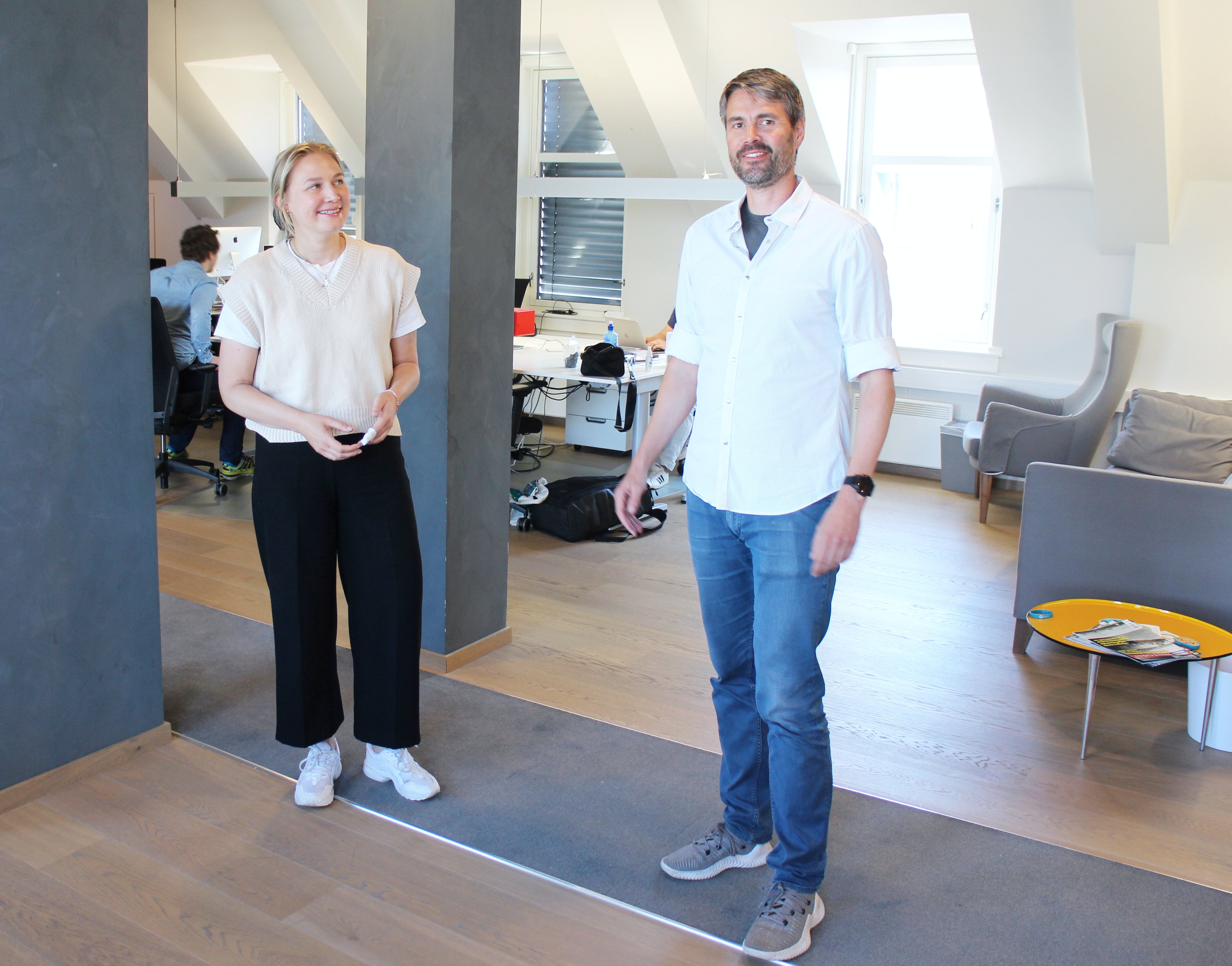 Johan Rostoft, CEO at SAYFR, together with Astrid Gjerdrum, senior analyst.
Everything as a service
There is always a trade-off between outsourcing parts of the business to external partners and keeping it in-house. But this is not a new trend as such. Cloud solutions have been around for a long time and are becoming an increasingly important success factor for companies worldwide. Cloud solutions simply replace companies' own infrastructure and are delivered as a service. The same approach applies to skills and expertise.
The consequence of SAYFR's choice to procure expertise as a service, halved the time it would otherwise take to put in place a sufficient solution based on the Google Cloud Platform. And the reduced development time paid off quickly. SAYFR increased its turnover in 2020 by 60 percent, managed to launch a successful pilot with Equinor in Norway, and recently entered into an agreement with the Japanese shipping company «K» Line. All of which would have been impossible in due time without the partnership with The Cloud People.
CEO of SAYFR Johan Rostoft concludes: «We are extremely pleased collaborating with The Cloud People. We have started recruiting our own tech expertise, but have no plans to end our partnership. On the contrary. Going forward we will increase our efforts into the gamification experience itself. This means more utilization of the cloud solution, which will require even more expertise delivered from The Cloud People.»
The future of work and development
The future of SAYFR looks bright. The response from the company's primary target group, the maritime sector, is indeed very positive. And at the same time, a growing number of companies want to make use of SAYFR's digital products to enhance and grow their organizational culture, based on better insights, to achieve better security.
Tord Ripe, Advisor at The Cloud People, says: «Our collaboration with SAYFR is an excellent example of how even smaller companies can quickly scale and grow, through partnerships based on delivering the right expertise at the right time. Without sufficient digital tools, cloud solutions and, expertise, efficiently managed via the internet, we would never have been able to scale and grow as quickly and broadly as we see today. The fact that a new and relatively small company in Norway can acquire enterprise customers on the other side of the globe, is proof in itself that this is the future of work and development.»
Make it with Google Workspace
Digital transformation is much more than a technological change. It requires a cultural shift in how you work. Our experts can guide your transformation by helping you deploy Google Workspace, Google's business productivity solutions, to achieve increased collaboration, greater productivity, and enhanced security. Talk to us for a free consultation.