Valotalive keeps teams informed in real-time with digital signage. Communicate live information and data visualizations to your employees to empower and engage.
"What's going on in your business right now?" That's what our customers typically would like to communicate with their employees in the workplace. The workplace digital signage from Valotalive lets you do just that.
Together with Valotalive we at The Cloud People make it easy for information to find the right people in your organisation.
Valotalive has turn-key integrations to an increasing number of data sources – connect and go live with a few clicks. It's really a game changer in the digital signage world and with integrations to sources like Meltwater, G Suite, Sharepoint, LinkedIn, Twitter, Salesforce + many more you are good to go without the need for a lot of custom work.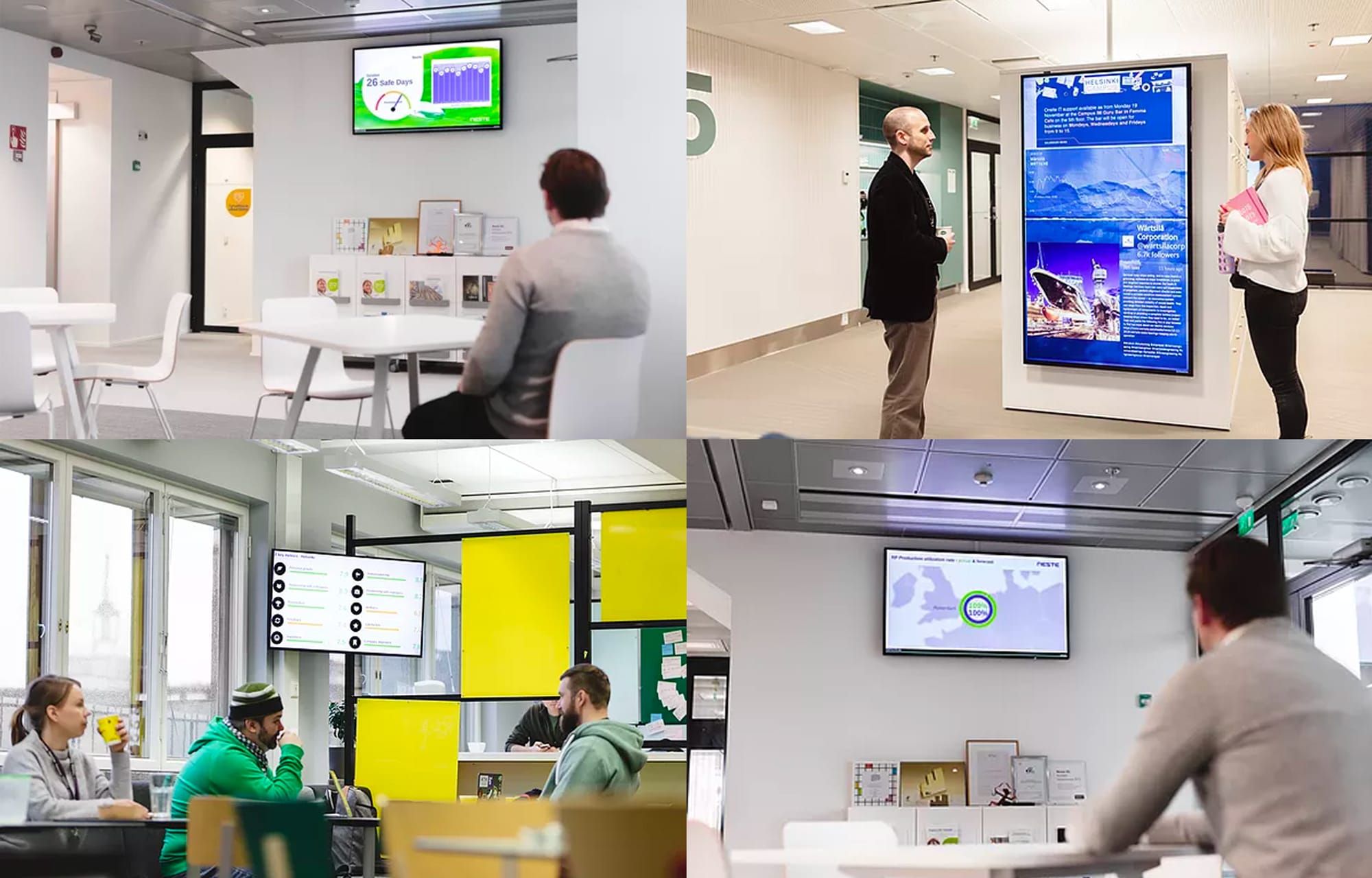 Three reasons to choose Valotalive
Data Transparency
Drive data transparency with Valotalive. Connect to different business applications and data sources with data visualisation apps.
Automation
We have automated the concept of the "playlist". It's programmatic in Valotalive and delivers information dynamically to the target audiences. We call it the Flow.
Pay-As-You-Go
Valotalive offers you a true pay-as-you-go approach for pricing. With our subscriptions you pay for the Info Screen services per day as you consume them.
Engage your employees
Improve your organization's internal communication with Valotalive. Engaging the employees in your business in the recipe for success, and to drive this engagement companies need to communicate what's going on in the company. Valotalive helps you to make the organization's KPI more visible, in real-time.
The platform is effortless to use, and makes it easy to create and present content of value. With Valotalive it's easy to ensure that your employees stay up to date with what's going on without them having to follow all the different channels. All the data you need already exist in your different IT solutions and services, Valotalive helps you present this information to the workplace.
The Cloud People has broad and long experience with helping companies with organizing and preparing digital workplaces. Together with Valotalive we can offer a platform that enhances transparency and engage the employees. Our team will help you with setting up the application and can assist you with guidance and free demos.
We would love to show you what Valotalive could do for your organisation so please contact us at sales@thecloudpeople.com if you want to see a demo, get a free trial or just have some questions for us.
Contact & Support