We are proud to announce that we have become ServiceNow Elite Partner. With a total of 344 ServiceNow certifications among our 150 consultants, we are by far the best certified ServiceNow Partner in the Nordic region.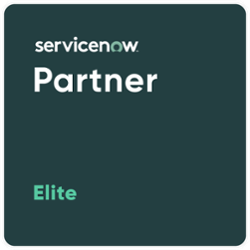 Today, The Cloud People proudly announce that we have become a ServiceNow Elite Partner. Our ambitions have been high since the company was founded in 2019 in Oslo, Norway. Our first goal was to become the leading ServiceNow partner in the Nordics. Now we have achieved our first goal, and we move on to become the leading ServiceNow partner in Northern Europe.
We now have 344 ServiceNow certifications amongst our 150 consultants. This makes us the #1 Nordic ServiceNow partner with the highest number of certifications.
We are not only growing fast. We are also revolutionizing staffing projects with our Smart Resourcing proposition. Our customers can log in to Cloudia, our self-service talent portal, find and even book the ServiceNow resources or team they need. Smart Resourcing means a new world of transparency.
Since 2019, The Cloud People has grown rapidly both organically and by acquisitions. Today we have a presence in eight countries, Norway, Sweden, Finland, Denmark, Netherlands, Belgia, Luxembourg, and the USA. Our ambition is to reach a revenue of 50 million euros by 2023, more than double from the income of 2021.
The ServiceNow partner ecosystem works together and aims to revolutionize how people work. As an Elite Partner with ServiceNow, we align forces with the fastest growing enterprise cloud company.