Christina Ravn, a former top football player for Aarhus Fodbold, has been appointed country manager for The Cloud People Denmark.
The new TCP-manager says: "I will use my experience from the football pitch to build a strong team that plays each other well to reach ambitious goals."

The Cloud People is strengthening its business in Denmark and has appointed Christina Ravn as the new country manager. Despite her young age, Christina has extensive experience in the tech industry from companies such as CGI and Xerox. In addition, she has played football at the highest level in the Danish women's league.

Bjørn Jarl, CEO at The Cloud People, says: "Christina has the qualities we need to level up our business in Denmark even higher. She understands what the customers need and can get teams to play each other well to create customer success. She has also led several complicated IT projects to success in both The Cloud People and CGI."
"Christina has the qualities we need to level up our business in Denmark even higher. She understands what the customers need and can get teams to play each other well to create customer success"
Christina Ravn is the second woman appointed country manager in The Cloud People, following Marte Thorbjørnsen Reid, CM in Norway. In addition, TCP also has several female leaders in the group.

It's not incidental that the new leader is a woman. Bjørn Jarl emphasizes: "It is important to have female leaders in tech companies for several reasons. Firstly, diversity in leadership fosters innovation and creativity, as diverse perspectives and experiences lead to more comprehensive problem-solving and decision-making processes. Secondly, female leaders serve as role models, inspiring and empowering other women to pursue careers in technology and challenging gender stereotypes. By increasing the representation of women in leadership positions, we create a more inclusive and equitable work environment, fostering greater gender balance, reducing gender biases, and enabling the full utilization of talent. Ultimately, having female leaders not only promotes fairness and social progress but also contributes to the overall success, profitability, and sustainability for The Cloud People."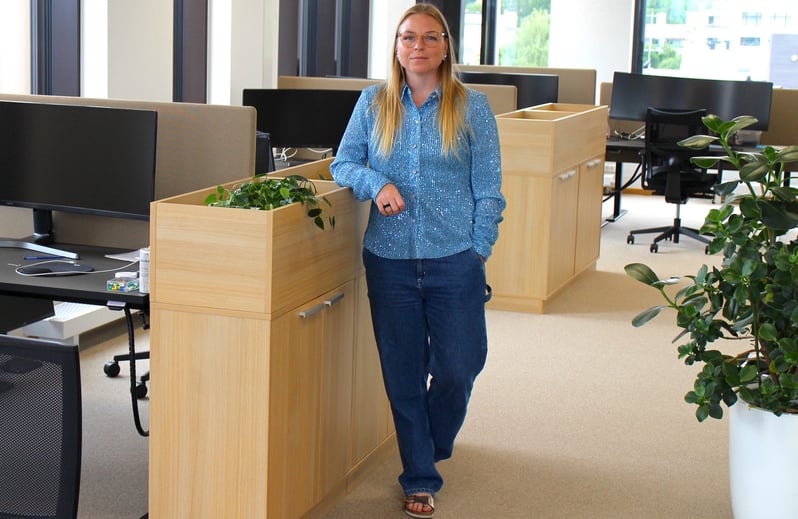 Christina Ravn, CM in Denmark
Will transform success from the pitch into business success
Christina Ravn has played soccer for several years at the top level in the Danish Kvindeliga and ended her career as center-back and captain of AGF (Aarhus Fodbold) in 2022. On the pitch, Christina was known for her ability to support and lift fellow players, her tough but fair playing style, and her leadership qualities.
Christina says: "I'm not necessarily the most gifted football talent, but I aim to help my team with all that I have got, verbally and playing-wise. I will do everything for my teammates to succeed and have their back. I aim to utilize these qualities as the country manager of The Cloud People."
Meeting the customers, Christina emphasizes that she strives towards simplifying complex technical and or strategical challenges to gain a mutual understanding and then to explain how IT creates business value.
"As a tech company it is crucial that we meet our customers and partners with a genuine attempt to understand all types of complex challenges they have and bring down the complexity to accommodate our suggestions for all levels of receivers. We must make it easy to understand how we can provide them with value through technology."
Christina adds: "Through my years in the industry, I have witnessed many mistakes coming from leaving a room, unknowingly with different perceptions on multiple concepts or deliveries, that eventually can mean one thing to some people, and another to others. It is the same as in the tactics before entering a football match, if we are not all aligned on the tactics, and understand elements differently, players might go left and right, and then it becomes difficult to win. I believe that if we are able to convey IT and complex challenges into a simple and understandable format for those we are doing business with, eventually it will lead to a mutual base, with trust and a common language among our customers, partners, and everyone involved with The Cloud People."
Transparency with Smart Resourcing
Christina also emphasizes the revolutionary Smart Resourcing concept. With Smart Resourcing, customers get access to the right consultants who best suit the task or project to be carried out.

"Smart Resourcing has become well rooted and resonates well in the Danish market. The simple and transparent approach to specialists at a very competitive price has accelerated our growth. Through Smart Resourcing, we can provide our customers insight into the consultants' skills, certifications, experience, customer feedback, etc. The result is that we can give our customers the right level of expertise and higher quality at a lower price than the rest of the market, and simultaneously doing so with full transparency."

Christina adds that Smart Resourcing combines highly skilled local Danish consultants with the available resources in the Nordics, Poland, or elsewhere in Europa. "Currently, we have multiple consultants in Poland who work closely with local consultants on the projects in Denmark. We have a 50/50 distribution of local and international resources."
Read more about how you can get better resources for less money here.
Christina comments on the journey ahead of her: "Coming from one of the biggest global IT suppliers, I have experience with a lot of different aspects doing business in a growing market, the ability to influence the journey for such a large company, is a little drop in a big ocean, and that of course gives other advantages. However, I think it is exciting to be in a company with high ambitions to grow, without compromising delivery quality or seriousness towards any request. Being a part of a journey, having the ability to impact it, working closely together with great colleagues towards a common goal, that is why I accepted this position. I see it as almost equal to when I played some of the most difficult matches, with some of my favorite people as teammates and we succeeded, there was - and still is - no better feeling. I want us to grow, I want us to be a workplace people enjoy and want to be a part of, and I want us to deliver simple and high quality solutions which add value to our customers and partners."

"Summarized, I see us in The Cloud People grow our business through a strong local presence, a global expert network, and a cost-reducing aspect. I think we apply to many segments and aim towards being large enough to handle and small enough to care."
Read the Danish ITWatch's coverage of our new country manager here.
Contact us if you want to know more about how The Cloud People can help your business thrive.