Admin Center provides a central hub for platform owners and admins to access platform capabilities, discover new applications, and get intelligent, actionable insights. It's installed automatically as part of the Tokyo release of ServiceNow.
Admin Center is one of the best enhancements in the new 'Tokyo' release of ServiceNow. This article will present all the essential features and how they can help you get the most out of your ServiceNow investment.
What can Admin Center be used for?
Admin Center is a new feature in the ServiceNow Tokyo release. The application will be installed automatically when the instance is upgraded to the Tokyo version.
Admin Center can be used to:
Receive personalized application recommendations based on instance maturity
Gain complete application entitlement visibility
Simplify application installation and configuration with a guided experience
ServiceNow product documentation describes Admin Center as a central hub for platform owners and admins to access platform capabilities, discover new applications, and get intelligent, actionable insights.
Admin Center has two separate interfaces: Admin Home and IT Adoption Journeys.
The rest of the article will explain the core functionality of these two interfaces.
Admin Home
Admin Home contains a few sections that can be very useful for administrators.
1. Manage your instance
Apps ready to update and Apps ready to install - both will take you to the plugins list filtered accordingly to the tile you chose.
Instance Security Center notifications

This widget takes us to Weekly Digests of all notifications that come from Instance Security Center. Also suspicious actions are shown here, like for example High Privilege Role Added.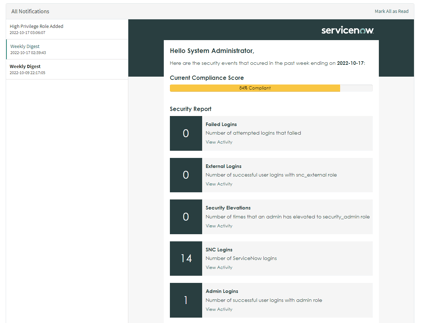 Now, admins can check very important data, which is aggregated in Admin Center instead of going to Instance Security Center.

2. Review your work - list of assignments, critical tasks, new tasks and open tasks sorted by priority.

In this section, we can also see Open tasks by age, Favorites and Requests (opened by admin).

3. Tools and Info to optimize your day:
- Stay on top of everything - leads to Visual Task Board

- Get a clear picture of performance - list of dashboards

- Expand your knowledge - takes you to the knowledge ba

IT Adoption Journeys
IT Adoption Journeys is a list of Adoption blueprints that "display the applications and features available to you and the recommended solutions to achieve business goals".
This is the place where admins can pick what is important for instance. Here also we have suggestions on which applications are needed and how to achieve goals. Admins also can check licenses, and how long an implementation will take, or get the links to documentation, training and videos.
Available Adoption blueprints: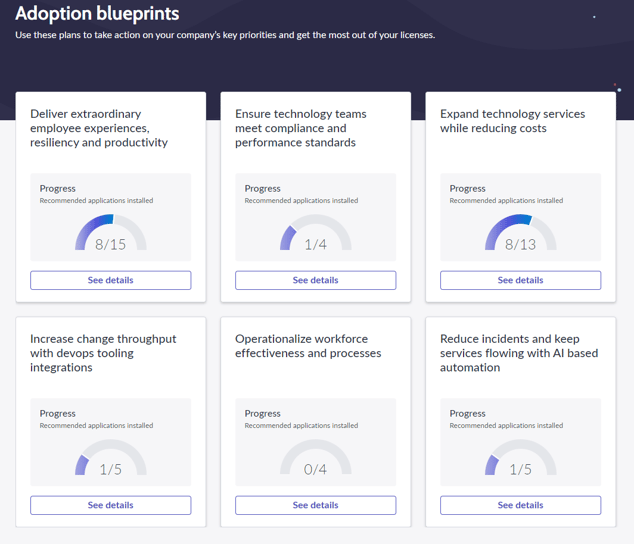 In product documentation, we can read examples of the goals:
Optimizing operations to efficiently meet the goals of your organization:

Reduced service operations cost for premium quality services,
Focused on simplifying and automating transactions,

Managing risk more efficiently by improving prioritization, efficiency, and operational reporting,


Delivering seamless employee experience to increase engagement and productivity with proper utilization of resources.
After choosing the Adoption blueprint of the admin's interest, he or she can read its description to make sure what is the scope. This part includes basic information about what should be done, why and when. But the most important thing is the contextual list of applications which will help to achieve extraordinary employee experiences, resiliency and productivity.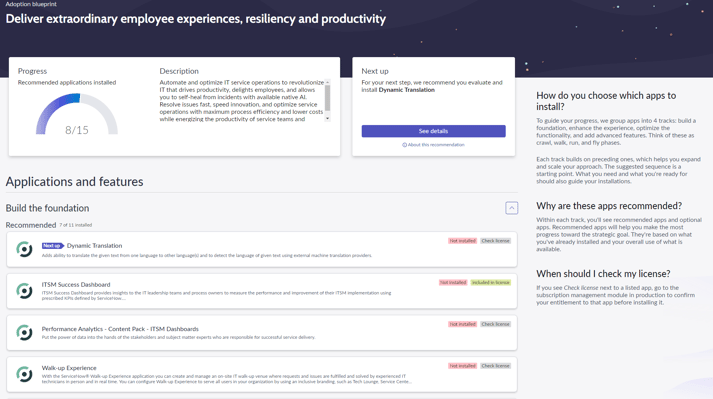 Admins can check the details of every application which is mentioned by reading the summary and checking key features and technical details. If an application is included in the license, admins can install it from this view. Otherway, applications can be activated. Some of the applications are explained in videos or other documentation, and here we can find links to them.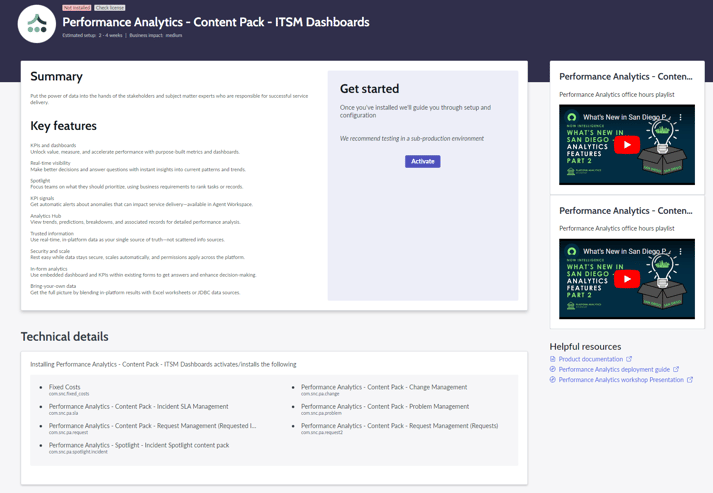 After looking into this new feature, Admin Center is a very promising tool that can help admins in their daily work. And it easily found, through the new "Admin Home" button added in the Banner frame.