Do you want to accelerate productivity and drive efficiency powered by GenAI?
Do you want to improve experiences for both your employees and customers?
Do you want to create a zero-trust security framework to meet federal regulatory standards?
If you answered YES, then spend 10 minutes to learn how ServiceNow's latest Vancouver release can enable your organisation to accelerate productivity & reduce costs, drive efficiency & satisfaction and increase flexibility and security.
Accelerate productivity & reduce costs
Generative AI Controller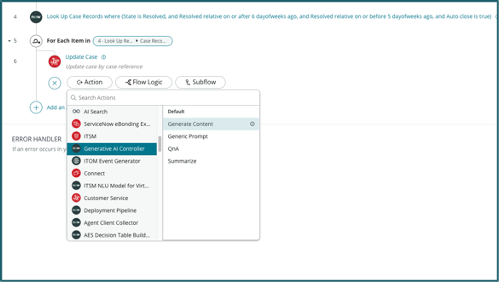 The latest advancements in generative AI, referred to as GenAI, are opening up remarkable opportunities for streamlining processes and boosting efficiency within businesses. Organisations are actively seeking ways to swiftly embrace Generative AI and unlock its value. One key hurdle they face is streamlining the integration of Generative AI into their ServiceNow workflows. Fortunately, with the Vancouver Release the ServiceNow Generative AI controller has the capability to seamlessly utilise the flow designer and virtual agent designer, making it easier for customers to rapidly incorporate Generative AI throughout their workflow systems. This is achieved through its direct integrations with OpenAI and Azure OpenAI.
Now Assist
Now assist is ServiceNow's GenAI tailored to meet the needs of ServiceNow customers. Now Assist accelerates everything users of the platform need to accomplish with the ServiceNow platform. Developers will leverage Now assist to write code and quickly customise applications, admin will improve App delivery and time-to-value, customer support will be empathetic and personalised and agents will work smarter and faster. Employees can now create new applications with no-code or technical expertise at all. Now Assist helps every person who touches the Now platform.
Now Assist for Developers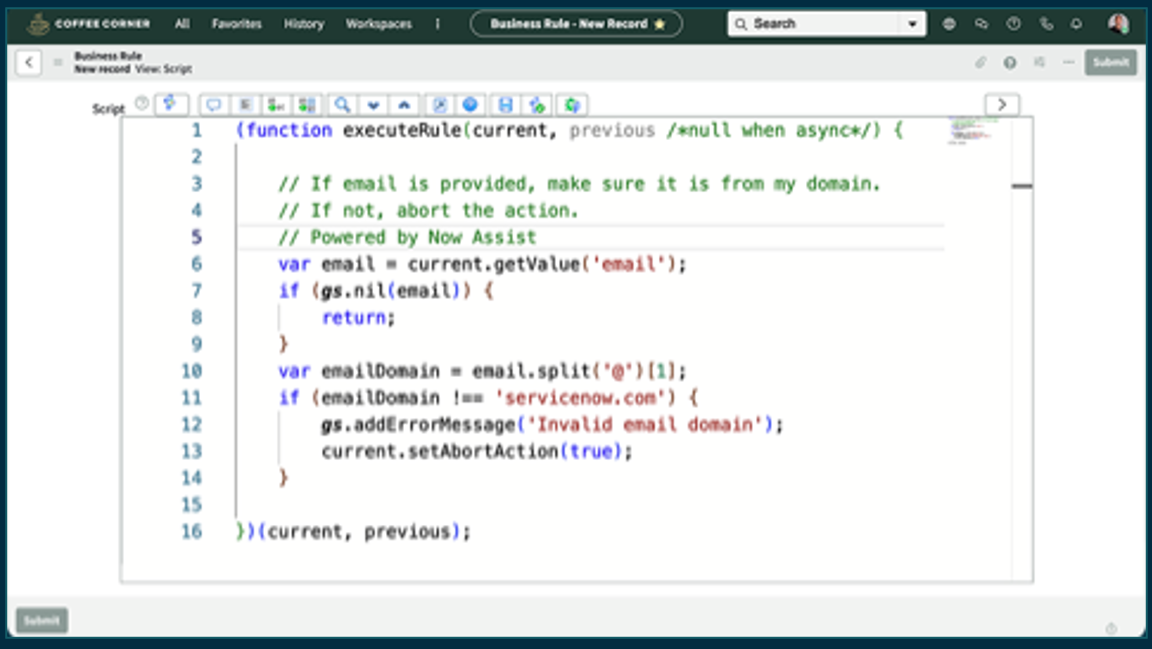 There is a constant push to find ways to develop apps faster, and meet the pending skill gap by empowering citizen developers. With Now Assist for Creator helps developers of all experience levels spend less time writing repetitive code and more time maximising their skill sets for improved productivity and faster app development.
Developers can now write code blocks leveraging AI-generated code suggestions to streamline creation and extend app development to new use cases. In other words, this text-to-code capability converts natural language text prompts into executable code for the ServiceNow Platform, fast, accurately and with the security built into the Now Platform.
Drive efficiency & satisfaction
Now Assist for IT Service Management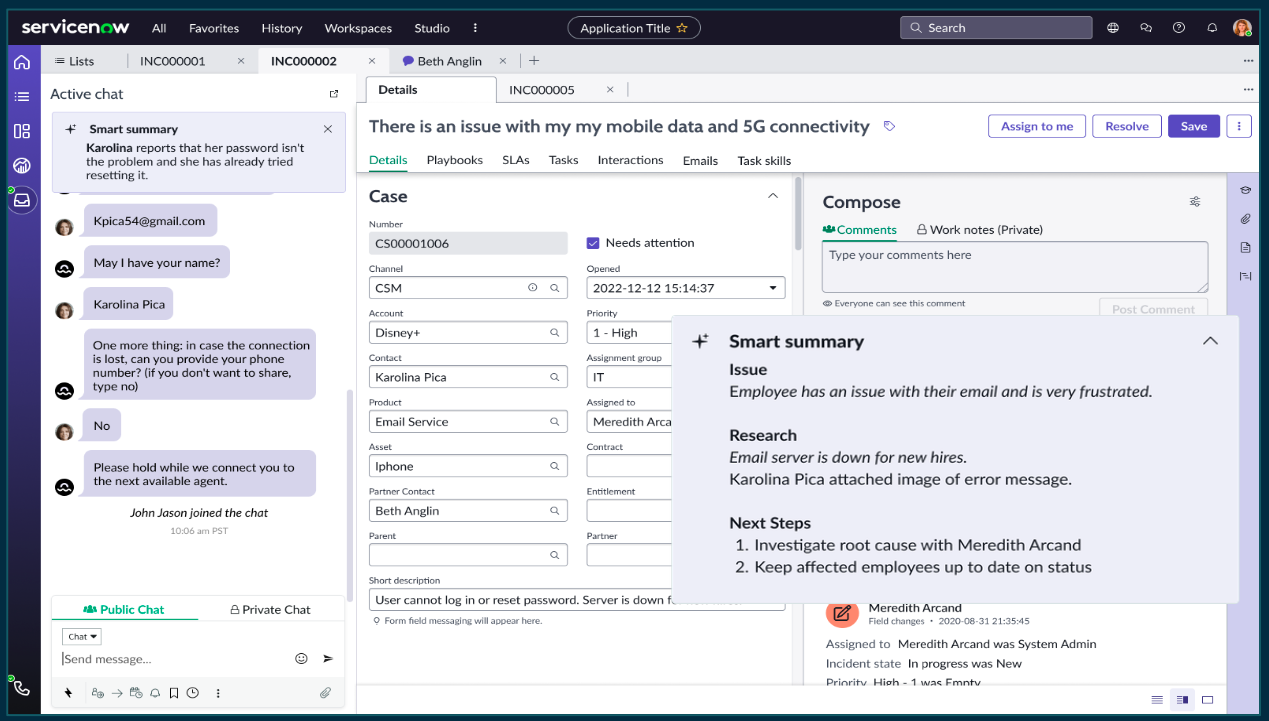 Now Assist helps agents to prioritise their work, quickly diagnose their issue and resolve an issue in minutes instead of hours. GenAI provides contextual understanding of the incident or problem so the agent can better tackle the issue without manually digging for information. A panel appearing in Service Operations Workspace whereby agents trigger GenAI actions, such as, contextual summaries of incidents and problems and automated resolution notes and code upon closure.
Now Assist for Customer Service Management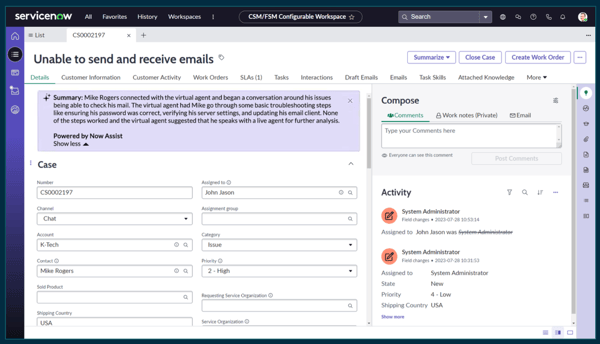 Now Assist for CSM accelerate customer service agent's productivity by generating summaries for cases and chats. Now assist summarise interaction history and set resolution code powered by GenAI. Upon concluding a chat, an agent can trigger a summary by clicking the Summarise button. A purple banner appears, displaying a GenAI summary.
Upon updating a configured field (such as Status), Now Assist triggers an update to the Resolution Code and Resolution Notes. A purple banner appears below the Details (tab label) displaying "Fields Updated by Now Assist", with hyperlinks to each field value.
Now Assist for HR Service Delivery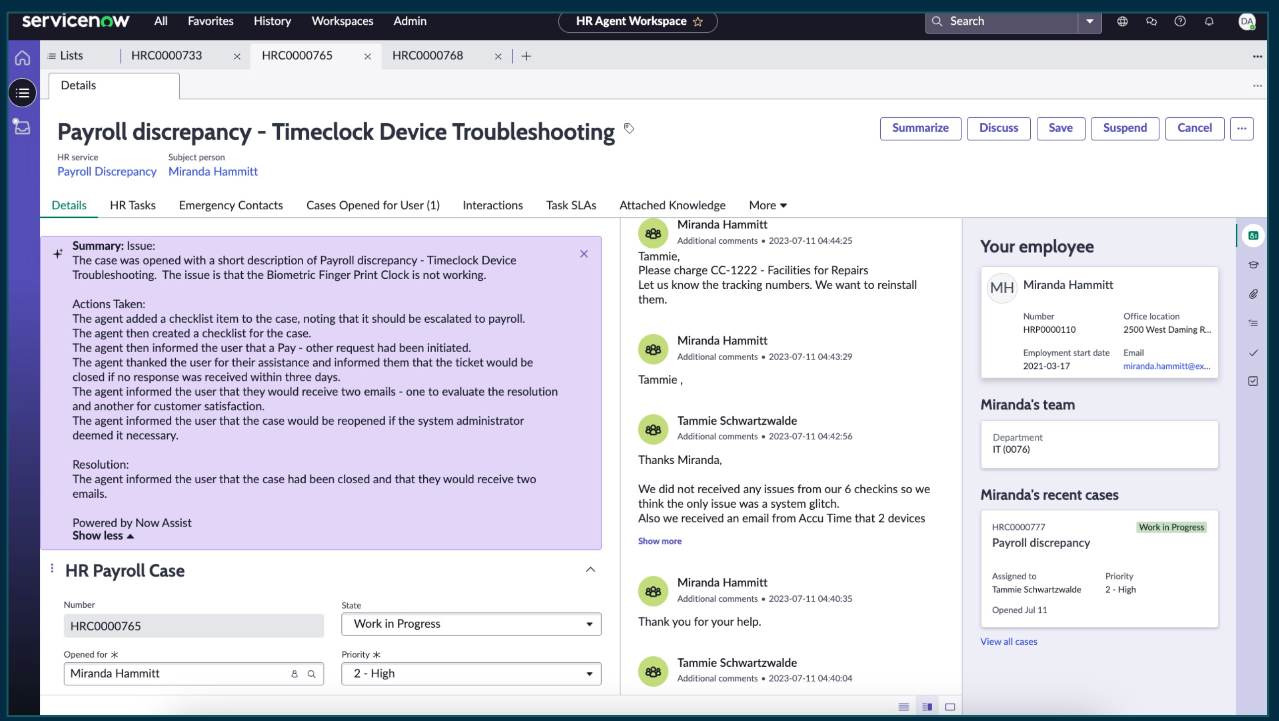 HR agents spend too much time on repetitive tasks when dealing with HR cases. Now Assist for HRSD make life simpler for HR teams and improve agent productivity by enabling generative AI capabilities for Case and Knowledge Management enables agents to deliver faster case resolution for employees.
Now Assist allows HR agents to instantly view a summary of a case topic, action items and resolutions taken to date, provides live agents with a summary of previous chat history from employee and virtual agent interactions and enables auto-generated resolutions to be added to HR cases when incidents are closed.
Increase flexibility and security
ServiceNow Zero Trust Access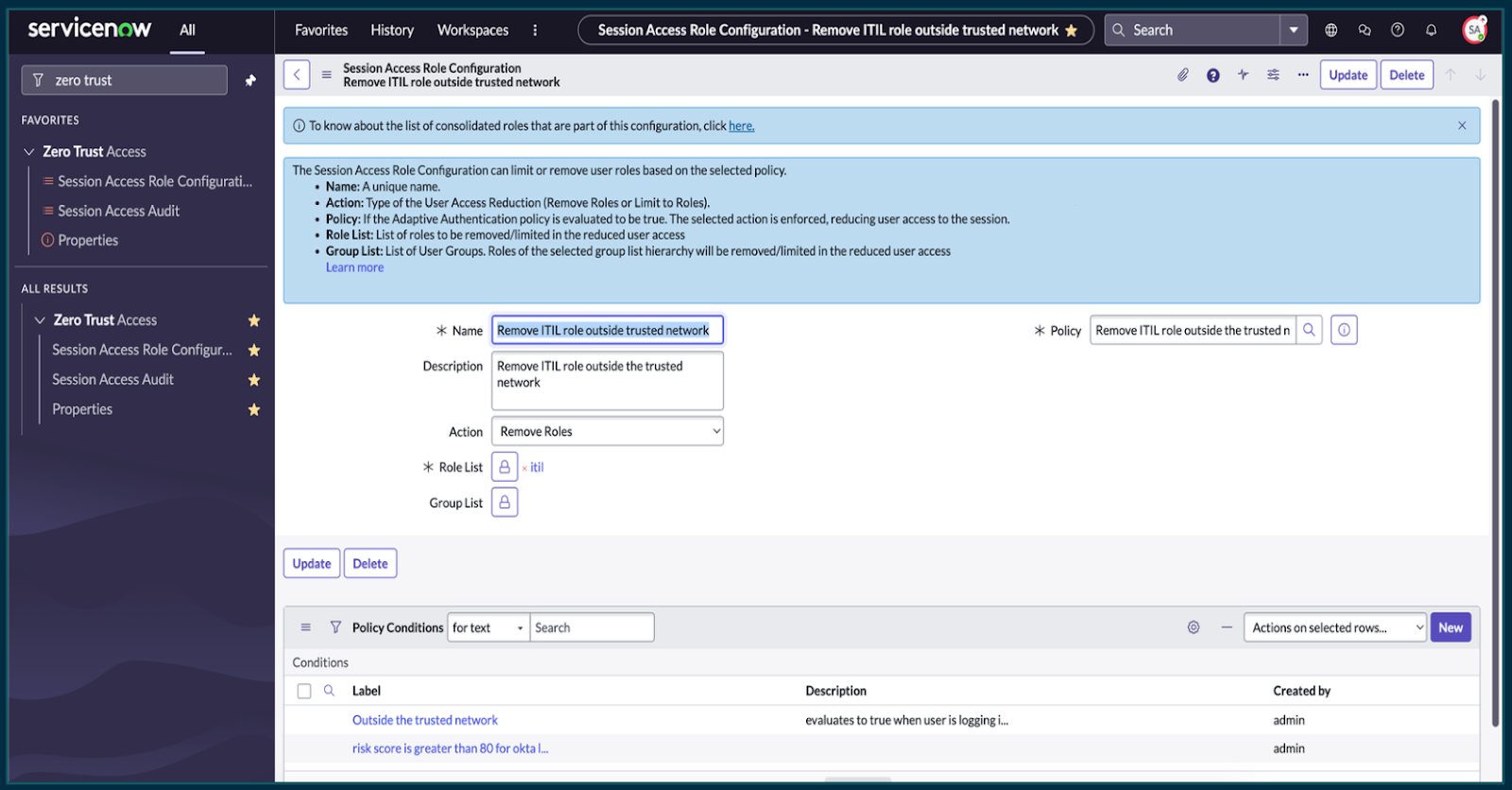 Organisations need to consider Zero Trust Access, a cybersecurity framework, that challenges the traditional perimeter-based security model by assuming that threats can exist both outside and inside an organisation's network. This "never trust, always verify" approach, ensures access to resources is not granted based solely on a user's location or network segment, but rather on their identity, device security posture, and the context of their access request.
The ServiceNow Zero-Trust Access (ZTA) solution provides system administrators the ability to set granular policies and enable least-privilege access control with continuous trust verification and ongoing security inspection to protect users, devices, apps, and data anywhere. This security approach eliminates the implicit trust of users, applications, and devices whereby anyone who requests access is assumed to be untrustworthy until their credentials are verified and, even then, only granted the minimum access their role requires.
ServiceNow Zero-Trust Access aligns with the National Institute of Standards and Technology (NIST) SP 800-207 zero-trust reference architecture and supports four key capabilities:
Controlled access reduces the attack surface by enforcing fine-grained contextual access policies and ensures "least-privilege" access
Improved security posture through trusted identity verification of users and devices access privileges
Protect against insider threats and mitigate risks by consistently verifying the identity and access privileges of all users, regardless of location or affiliation
Increase compliance levels for regulatory mandates by ensuring secure access and data protection. Multi-Factor Authentication (MFA)
Third-party Risk Management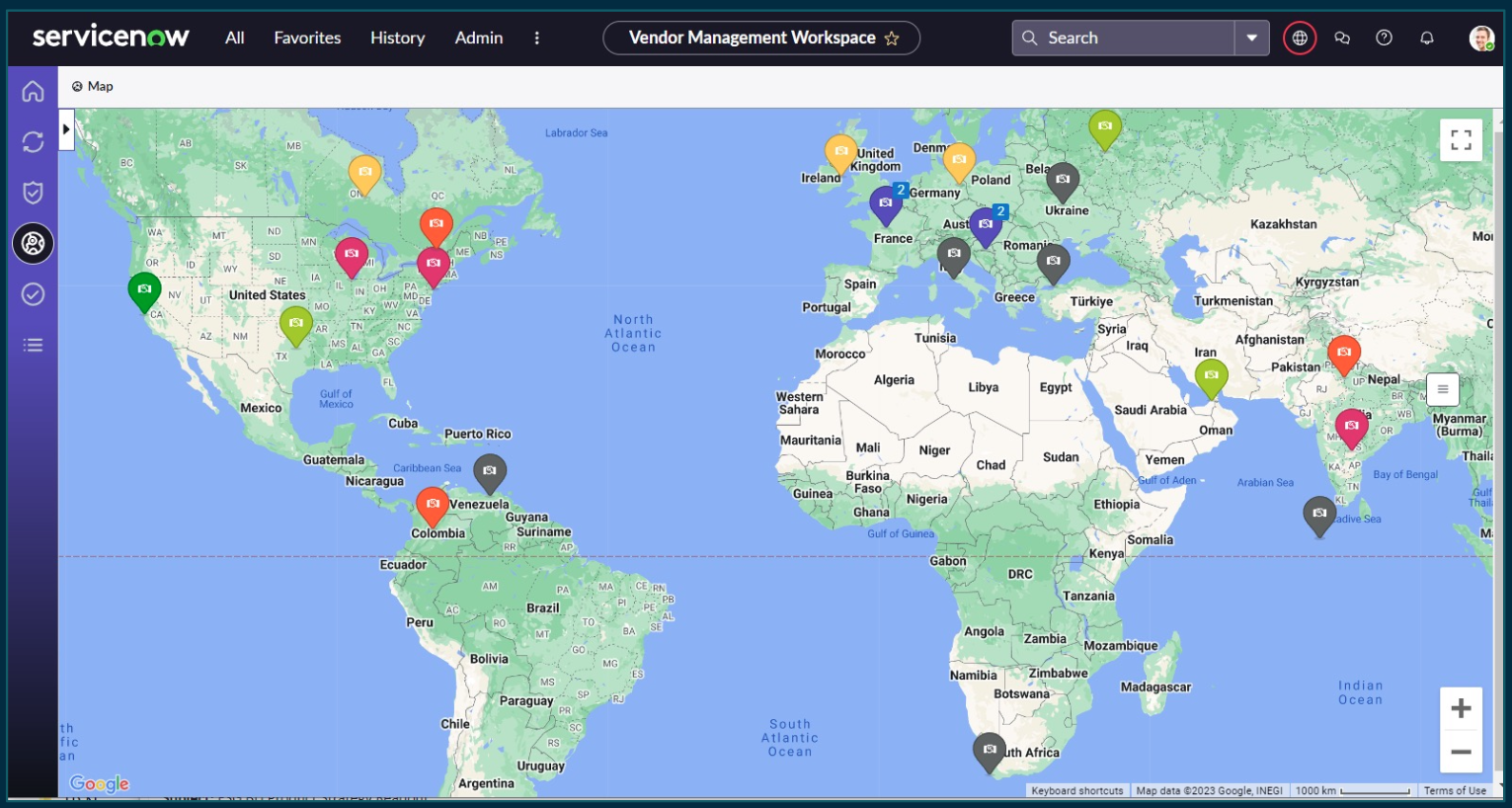 Note. The Risk Concentration Map provides a map of all third-party engagements to improve visibility into the geographic concentration of risk worldwide.
Traditionally, managing third-party risks has been a laborious and error-prone task, involving spreadsheets, emails, and outdated vendor risk management tools. With ServiceNow Third-party Risk Management (TPRM), this paradigm is transformed. ServiceNow TPRM revolutionises the way you handle risk and bolsters supplier resilience by establishing meaningful connections between third-party risk and business outcomes.
ServiceNow TPRM helps customers establish a consistent, repeatable, and auditable enterprise-wide approach to managing third-party risk. ServiceNow TPRM automates workflows, centralises data, facilitates internal and external communications, manages contracts and other relationship documentation, and enables reporting to draw insights from enterprise-risk data for a real-time, consolidated view of the organisation's risk posture. With ongoin monitoring, customers maintain consistent oversight of their third parties between assessments and are continuously informed and aware of changes that may impact their third-party portfolio.
ServiceNow Third-party Risk Management optimises the third-party risk assessment process with risk intelligence and insights and combines this with ServiceNow's industry-leading risk management capabilities to connect critical risk stakeholders, streamline procurement processes, drive compliance and enable business continuity for a more resilient enterprise.
Contact us
Do you want to learn more, dont hesitate to contact us. Fill out the form below.