Boost productivity and precision with the power of Service Operations. Simplify and optimize operations, automate workflows, and elevate employee satisfaction. Discover how ServiceNow revolutionizes your organization.
Service Operations Workspace provides a centralized and streamlined approach to managing operations, leading to increased efficiency and accuracy. It enables agents and operators to seamlessly flow events, incidents, problems, changes, alerts, and logs, predicting and resolving service degradations. With the ability to centralize all functionality, eliminate integration gaps, and provide a single pane of glass, Service Operations promotes exceptional employee experiences and productivity.
Service Operations refers to the process of automating and improving the efficiency of technology service operations. It involves combining IT Service Management (ITSM) and IT Operations Management (ITOM) onto a unified platform to enhance the delivery of resilient and cost-effective services. The primary focus is on ensuring exceptional employee experiences and productivity.
What are the challenges Service Operations is designed to address?
During the course of a company's development, it will either purchase or build various digital systems or software to optimize a specific business area. For example, one system for IT Service Management, another for IT Operations Management, another for Data collection & Reporting and yet another for Asset Management. While this approach may provide benefits within a specific department it adds inefficiencies to the organization as a whole.
Based on an F5 study, most of the companies are managing between one and 200 applications, nearly a quarter are handling between 201 and 500 and 15% reported as many as 1000 management applications. Not an insignificant undertaking in any way, even at 204 applications to scale, secure, and manage is more than enough to keep the operations team busier than they would like probably to be.
Too often each individual system application also has no way of directly communicating with other applications, which means workflows can only be automated as far as the next system gap.
Source: https://www.f5.com/company/blog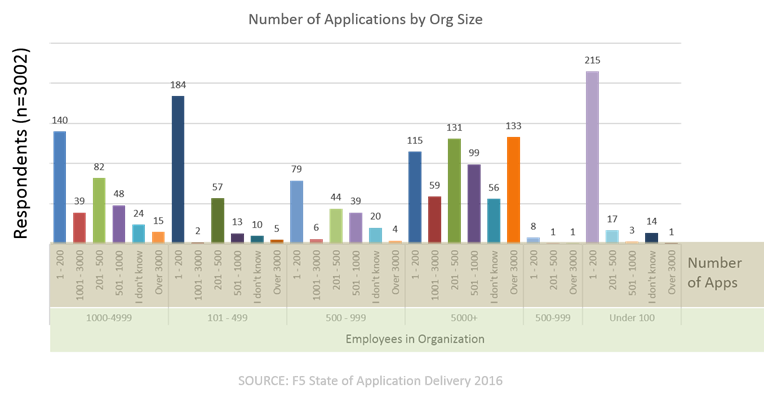 The thing is, that number should, apparently, be growing. While a good number of applications are moving to the cloud, especially commoditized business apps to SaaS offerings, those "openings" are being filled by other applications.
Most app development resources today (42%) are focused on employee productivity. Internal facing, operational efficiency-focusing, apps.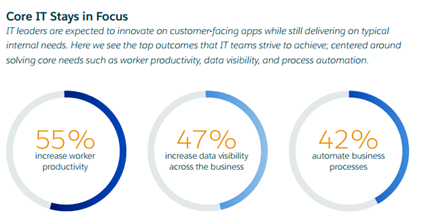 Automating business processes, increasing productivity, and increasing data visibility across the business are core IT concerns:
This is where 'Service Operations' comes in to play:
Now reaching the outcomes IT teams strive to realize, is more achievable than ever.
Automate and optimize technology service operations by bringing together ITSM + ITOM on a single unified platform, to expand resilient, cost-effective services while delivering extraordinary employee experiences and productivity, that's what Service Operation is all about.
What makes Service Operations unique is the ability to centralize all that functionality and interconnect process by eliminating any unnecessary integration gaps, centralizing functionality and providing a single pane of glass for both Service Agents and Operators via Service Operations Workspace, enabling a seamless flow of events, incidents, problems, changes, alerts, and logs to predict and resolve service degradations.
Overall, the Service Operations team increases its productivity with personalized and configurable views that help focus on tasks and deliver a great employee and customer experience.
, that allows for flawless delivery of End2End services through automation and workflows which enables operational efficiency and even lowers the operational cost.
ServiceNow Service Operations enables your organization for end to end digital transformation, with a centralized and streamlined approach to managing operations, leading to increased efficiency and accuracy. The greater visibility that you get into Operations, allows you to make informed data driven decisions.
How is that level of efficiency achieved:
Break down silos:
Configurable and powerful user experience:
Reduce noise with AI-driven analytics:
Increase value from existing tools:

Agents get deep insights into the operational state of the services they are supporting. Operators see the current impact of outages as grouped alerts and linked to recent changes.
Personalize agents' instances and set user preferences. Pin- able/pop-over navigation experience with an extensible top menu system enables agents and operators to graphically organize work. Assigned tasks are shown by priority in the context of known outages, mapped infrastructure, alerts, incidents, and more.
AI-analytics applied to events, logs, and metrics, reducing noise, providing anomaly detection and alert correlation to predict outages. AI-based recommendations help jumpstart troubleshooting issues.
Consolidate events captured by multiple infrastructure monitoring tools by integrating them through out-of-the-box connectors, 3rd-party connectors, REST API, or SNMP traps.
Having the experience and expertise to orchestrate these functionalities to deliver the values mentioned above utilizing "Service Operation" is what makes The Cloud People unique.