The Cloud People is pleased to announce it has received the 2023 Google Cloud Partner of the Year Award for the Nordic countries. This acknowledges The Cloud People's hard work in helping customers leverage Google Cloud and highlights their advanced Google Cloud capabilities and expertise.
At the annual Google Cloud partner awards ceremony, The Cloud People was recognized for their achievements in the Google Cloud ecosystem and won the Services Partner of the Year - Nordics Award.
Kevin Ichhpurani, Corporate Vice President, Global Ecosystem and Channels at Google Cloud, says: "Google Cloud's partner awards recognize the significant impact and customer success that our partners have driven over the past year."
Ichhpurani adds: "We're delighted to recognize The Cloud People as a 2023 Google Cloud Partner Award winner, and look forward to a continued strong partnership in support of our mutual customers."
Tord Ripe, Google Cloud Platform owner at The Cloud People, emphasizes: "The award shows that our position as a focused Google Cloud partner has been recognized and that our competence on and investment in the Google Platform have paid off."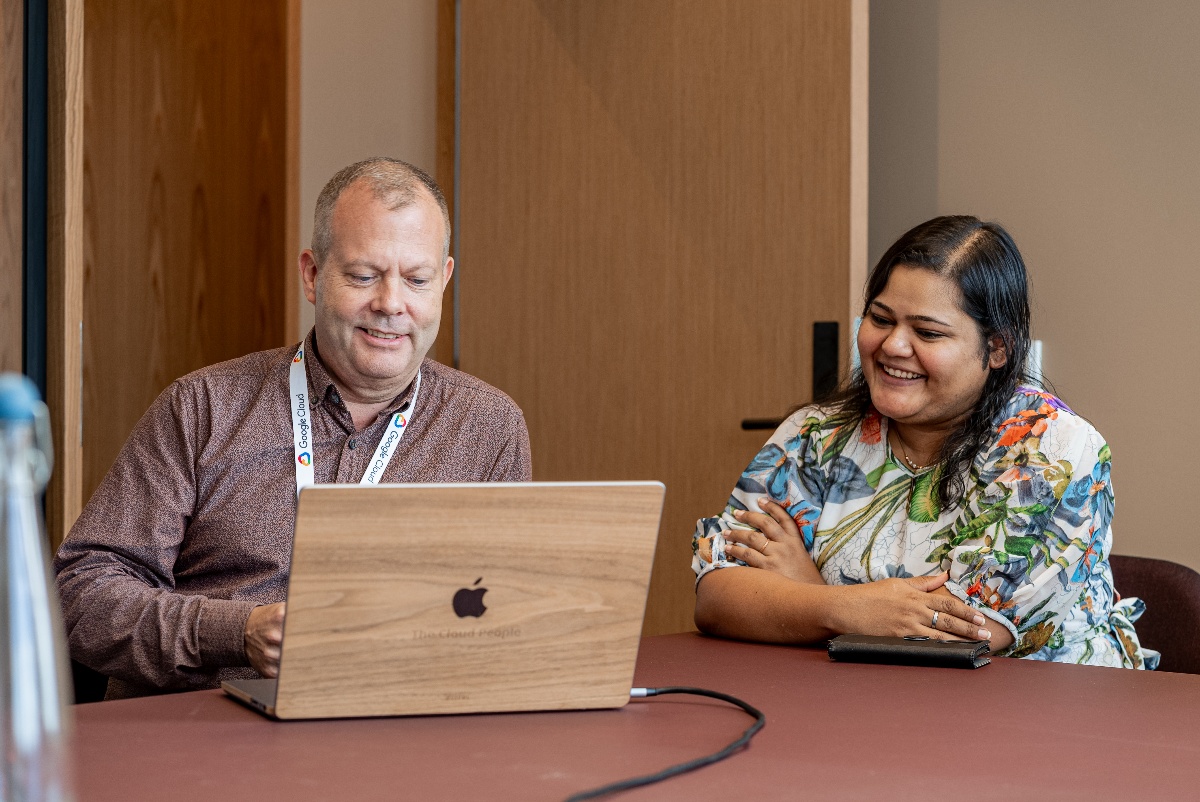 Tord Ripe, Google Cloud Platform owner and Garima Srivastava, Senior Engagement Manager at The Cloud People Norway
The Cloud People is a hyperscale partner exclusively dedicated to Google Cloud and takes immense pride in delivering professional services.
Ripe underlines: "As a hyperscaler partner exclusively dedicated to Google Cloud, we take immense pride in delivering professional services. Our focused approach maximizes support, expertise, and value for regional customers. By solely specializing in Google Cloud, we build trust and refrain from offering competitive solutions. Our commitment to being a trusted partner underscores our dedication to driving customer success."
TCP and Google creates business success across the Nordics
Ripe adds: "We have gained a strong reputation among small and medium-sized businesses (SMB). In addition, we are enthusiastic about assisting larger teams in customer reach and scaling on the Google Cloud Platform. Through valuable resources and active participation in customer calls, we address challenges and provide guidance."
He also highlights examples of customers TCP has helped: "Our client collaborations exemplify our commitment to driving success. Notably, our ongoing partnership with Sidekick Health fuels their continuous growth. Additionally, as the dedicated development team for Sayfr, a Google 4 Startup program graduate, we enhance their SaaS services. These collaborations yield tangible results and contribute to client achievements."
Ripe concludes: "Furthermore, our expertise in DevOps proves invaluable to customers. Trusted by organizations like Beet, Neonomics, Scout Gaming Group, and Washworld, we optimize operations and provide cost-effective Google Cloud solutions. This expertise benefits Nordic countries, boosting customer spending and satisfaction."
About The Cloud People
The Cloud People help organizations transform their business to the cloud to leverage the competitive advantages of the market-leading cloud platforms: Google Cloud Platform and ServiceNow. With our Smart Resourcing concept, customers get access to top-quality resources at a reasonable price, easily and transparently. Today, TCP has a local presence in Finland, Norway, Sweden, Denmark, Germany, Be-Ne-Lux, the UK, and the US. In addition, TCP has large delivery centers in Poland and Brazil.
More information here: https://www.thecloudpeople.com/about-us.