The Cloud People has secured a strategic contract with Equinor for application management on the ServiceNow platform. This contract solidifies The Cloud People's position as the leading ServiceNow partner in Northern Europe.
Marte T. Reid, Country Manager in The Cloud People Norway, underlines: "The agreement with Equinor is a result of our Smart Resourcing concept and our business model winning out in a market where the lack of good, specialised IT consultants is getting bigger."
Equinor is a global energy company with over 21,000 employees and has its head office in Stavanger. Equinor has committed itself to long-term value creation in a low-carbon future, and the purpose is to turn natural resources into energy for people and progress for society. Equinor develops oil, gas, wind and solar in over 30 countries. Equinor is the largest oil and gas operator on the Norwegian continental shelf, among the world's largest offshore operators, and an increasingly important player in renewable energy.
The Cloud People will be responsible for daily operations and support, be an advisor and drive further development of Equinor's ServiceNow platform. The agreement means that The Cloud People will support Equinor in taking full end-to-end responsibility for the company's ServiceNow solutions in collaboration with Equinor's resources. ServiceNow is a central business application at Equinor that is used, among other things, by the HR and IT departments.
Equinor uses the ServiceNow platform to streamline and automate several time- and resource-consuming processes.
Marte T. Reid continues: "Application Management Services is not just an IT project, but a business change project, where change management and the introduction of new and more efficient ways of working are a central part of the project."
For Equinor, this contract means that they will be able to benefit from The Cloud People's extensive knowledge and experience in working with the ServiceNow platform. Equinor will have access to the latest tools and technologies to improve its application management processes and increase efficiency.
Additionally, The Cloud People's team of experts will be on hand to provide ongoing support and guidance to ensure that Equinor's systems are running smoothly.
Smart Resourcing wanted by more and more
Bjørn Jarl, CEO of The Cloud People, says: "For The Cloud People, the agreement is an important signal that our Smart Resourcing concept is in demand in the market. With Smart Resourcing, Equinor will be able to choose the right consultants with the right expertise depending on what they need to be delivered."
The Cloud People will have consultants on-site at Equinor in Stavanger and Oslo, combined with resources based in The Cloud People's Global Competence Center in Poland.
To offer the right resources efficiently and transparently in a market with a shortage of consultants, The Cloud People has developed Smart Resourcing. The unique concept means the consultancy can offer the best expertise for individual tasks. It provides smart use of resources at reasonable, competitive prices and has become a great success.
Bjørn Jarl concludes: "We believe that Smart Resourcing will become a must and believe that it will eventually become common to offer IT consultants graded according to documented competence and experience. Until now, we are alone in this."
The Cloud People is one of Northern Europe's largest, focused ServiceNow partners and an Elite partner, ServiceNow's highest partner level.
The ServiceNow platform is a powerful tool for managing and automating various IT processes, including incident management, change management, and service catalogue management. By partnering with The Cloud People, Equinor will be able to leverage the full potential of the ServiceNow platform to streamline its operations and improve its overall IT service delivery.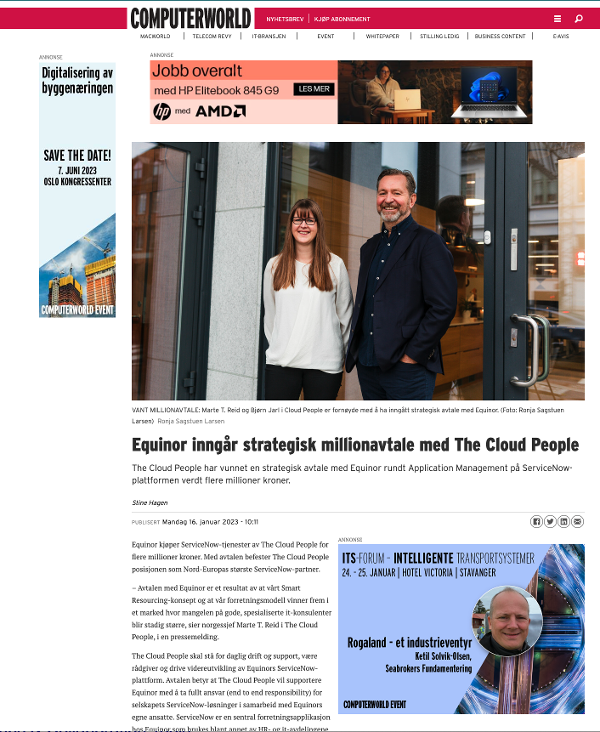 Norwegian Computerworld has published an article about the agreement we have signed with Equinor for the delivery of a new ServiceNow project. Read the full story (in Norwegian) .